Wooden door frames are common to any home, but the water wicking properties of wood can lead to plenty of problems for homeowners, including swelling and shrinking, paint peel, mold and mildew, and frame rot.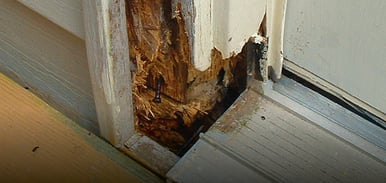 Here are the warning signs of frame rot:
• Chipped or peeling paint
• Exposed, raw wood that appears damp or discolored
• Door jamb appears sunken or misshapen
Seasonal changes, extreme weather and temperatures, bug infestations, and more can contribute to the formation of frame rot. Even if there are no external signs of frame rot, the damage could be eating away at your wood just below the surface.
While many think of frame rot as a problem developing decades after a house is built, it actually takes as little as 3 months after construction for the first signs of frame rot to appear. This can be bad news for builders, who are responsible for fixing the damage if the house is still under warranty.
Repairing frame rot can be costly and time consuming. Beyond simple patchwork, the rot often goes deeper into the wood than it first appears. Replacement of the entire door frame is usually required, and sometimes even the door and surrounding wood framing. Builders can avoid the time and cost of these repairs by investing in quality frame components from the start.
FrameSaver® Protects Your Frames
FrameSaver® Rot-Proof Door Frame offers the strength and look of wood, but is a rot-proof composite material without the moisture-wicking properties that can lead to frame rot and other issues. The finger-jointed wood composite protects the base of the door frame, stopping rot before it can begin.


Here are a few reasons why builders love FrameSaver®:
• They are field proven, with over a decade of rot-free performance.
• Even though we offer a Lifetime Warranty, we've never had a claim.
• It finishes and paints just like real wood. The only difference is the lasting protection.
Builders everywhere are proud to show their homes are protected by FrameSaver®. To learn more about this product, call 1-800-334-2006 to talk with an Endura representative, or download our free product guide below.